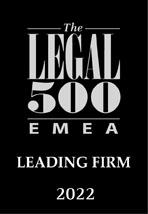 Bertacco Recla & Partners nella Legal 500 EMEA Guide 2022
Lo Studio è stato riconosciuto come Leading Firm all'interno della guida internazionale The Legal 500 EMEA Guide 2022 nelle categorie di Diritto Amministrativo – Public Law e Real Estate.
Testimonials:
'The legal team is able to provide support on urban planning, administrative issues, public and private procurement contracts. This greatly facilitates the work, allows everyone to be always aligned, and avoids wasting time in the various stages of project development. This also generates great planning of activities by the legal team and therefore orderly and timely execution.'
'Each lawyer of the firm, in addition to being very competent, professional and organised, shows strong levels of sensitivity and empathy, which are of considerable help in resolving sometimes tedious and complex issues.'
Per saperne di più: 
CLICCA QUI per la categoria Public Law;
CLICCA QUI per la categoria Real Estate.